Cat's Stories (Part 3)
Cat Breeds
Asian Cat
British Longhair Cat
European Shorthair
Kurilian Bobtail
Tabby Cat
Tonkinese Cat
Turkish Van Cat
Ukrainian Levkoy Cat
Funny Cats
Cat Health Problems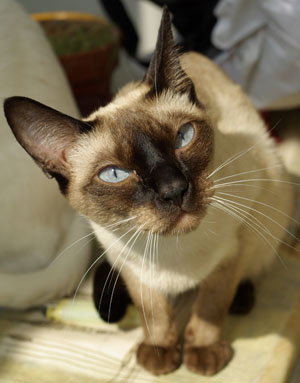 Meow! ;)
* * * * * * * * *
Story #6
From: Judy
Cat Breed: Maine Coon
Story: Our lovely Maine Coon came to us from the animal shelter about 3 years ago. She was 5 yrs then. She is amazing! She will 'give us a paw' when she wants a treat! When they say Maine Coons are the 'dog' of the cat species, I think they are right on. She rarely leaves my side except at meal times (or when I go to work) and she says YOW! when she finishes eating, is she saying thanks?!! Love our Elizabeth to bits.
* * * * * * * * *
Story #7
From: Nicholas Broome
Cat Breed: domestic short haired
Story: I got a cat and her 3 kittens from a rescue centre we do not know who owned the mother before but we know she had to live in the Ewell Epsom area if anyone knows a black and white cat who lived around Epsom and Ewell that also had another litter please let me know.
thank you bye
* * * * * * * * *
Story #8
From: jill avidon
Cat Breed: himalayan
Story: I love my Himalayan..! He's so cute and his favorite thing to do is box.. he's a super champ when it comes to boxing and boy does he love to show off!!!