Cat's Stories (Part 7)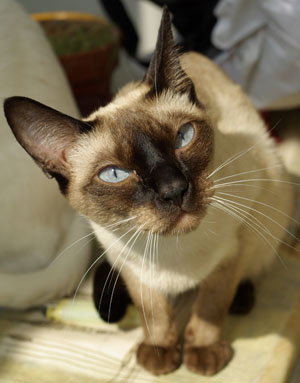 Meow! ;)
* * * * * * * * *
Story #18
From: Sheila
Cat Breed: Maine coon
Story: I got a Maine Coon when he was 6 weeks old. His name is Jasper and he is big and beautiful and loves to play. BUT he is afraid of everything and everyone. If someone new is in the house visiting and they go to look for him or come in the room where I am, he snars and growls at them-never had this happen! I had a Siamese cat for 19 years and he is no longer with us and I got this maine coon. I never had this breed before. Has anyone ever had a problem with their Maine Coon with strangers?? Please help!
* * * * * * * * *
Story #19
From: Queen of heart from Haus-der-Sechem
Cat Breed: Haus der Sechem
Story: 

Hello

my name is Queen of heart from Haus der SechemI want to say all , that I have 4 lovely kittens born 17.05.2011I live in germanyI'll be happy , if you are interested and looking my babies on the page of our cattery www.haus-der-sechem.de

Your Queeny
* * * * * * * * *
Story #20
From: nathan schmidt
Cat Breed: siamese cat
Story: I might have got him on monday this week, but boy oh boy has he already adapted to my apartment I have been and shall enjoy his company from here until I have to put him down when he is ready to pass on. Man is he ever voical. I do however enjoy talking to him on a reagular basis. On a final note The more I'm around my cat the more I'm dumb founded by us humans.